Emergency Preparedness
Crimson has developed detailed plans for a timely and effective response to any release that might occur on any of our pipelines or at any of our facilities. These plans are routinely reviewed and updated. We practice planned response activities during drill exercises where we include qualified spill response contractors as well as representatives from state, federal, and local responders. These include representatives from US EPA, US Coast Guard, local fire departments, sheriffs, and various State agencies. Following each and every drill exercise we look for opportunities to improve our plans and training and make adjustments as appropriate.
In case of an emergency…
Call 911 or your local emergency response number and then call our 24-hour emergency number (866) 351-7473.
Community and Public Awareness Program
Crimson is dedicated and strongly committed to providing meaningful information about our pipelines and pipeline safety and to doing our part to create public awareness on an ongoing basis.
HOW TO IDENTIFY OUR PIPELINES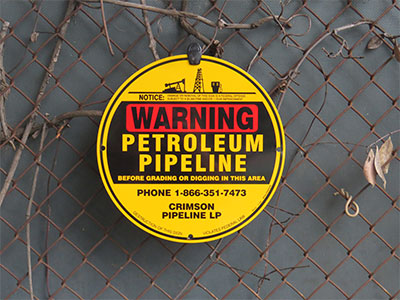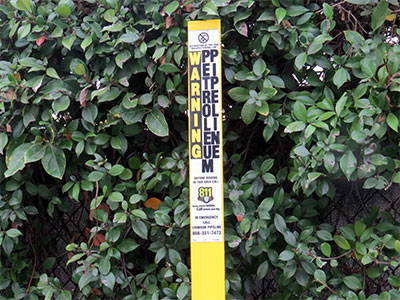 To ensure safety, most of our pipelines are buried. If you need to identify our pipelines, you would need to look for our pipeline markers.
Pipeline markers are located throughout our pipeline rights-of-way at sites, such as road crossings, and railroad crossings ― to help identify the approximate location of our pipelines.
Our line markers include:
Commodity transported (i.e. Crude Oil)
Our company name
24-hour telephone number where a person monitoring our pipelines can be reached at any time (866) 351-7473
BE KNOWLEDGEABLE ABOUT PIPELINES
The information provided on our pipeline markers is helpful, but limited, so we encourage you to also make note of these important safety facts:
Line markers are placed near the pipelines, but not necessarily directly on top of the actual pipelines
A pipeline may not follow a straight line between adjacent markers
Line markers cannot be relied on to provide information on the depth or number of pipelines in the area
Be sure you always call 811 before you dig
PIPELINE LAWS
Safety is everyone's responsibility. You can help keep your community secure by knowing where pipelines are located. It is also very important everyone in the community be able to recognize unauthorized activity or abnormal conditions.
It is against the law for any person to willfully and knowingly deface, damage, remove or destroy any pipeline sign or right-of-way marker.
If these signs are damaged, missing or otherwise unreadable, please report it to the nearest Crimson local office.
Pipeline rights-of-way must be kept clear of any buildings, structures, excess vegetation or other encroachments that might restrict access to the pipeline. Rights-of-way protect the public and the pipeline.
Even minor pipeline dents, scratches or chips are serious and may cause future leaks if they are not repaired.
Call 811 Before You Dig
We need your help to keep our pipelines safe. Before you reach for a shovel to plant your new shrub, or before your pool installer breaks ground, be sure that you contact the nationwide "Call Before You Dig" phone number (811) to locate and mark all underground utilities. It's quick, easy, and it's free!
The number one cause of pipeline accidents is from excavators or individuals striking pipelines without having underground utilities properly marked.
Tips for Calling 811:
Call 811 at least two business days before starting any excavation project.
When you call, tell the operator where you plan to dig on your property.
What Happens When You Call 811
The One-Call Center will notify Crimson — as well as your electric, phone, gas and other pipeline companies — of your planned excavation. A Crimson representative will come to your proposed excavation site, mark the location of our pipeline(s), and provide additional information, if needed.
You and your neighbors' safety are extremely important to us, so please, always call 811 before you dig.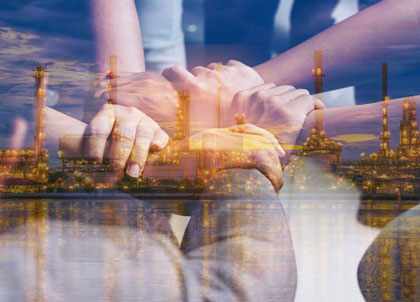 Giving Back
Crimson supports STEM Programs for public and private education and non-profit organizations including:
Komen for the Cure (Breast Cancer)
Boys & Girls Clubs - So. Cal. (Youth Empowerment)
American Red Cross (Disaster Relief)